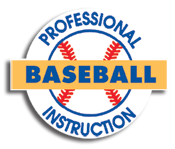 Professional Baseball Instruction has been in the business of training baseball players in the tri-state area since 1993.  Founded by Doug Cinnella, PBI continues to be THE leader in baseball training in with new and innovative programs and training methods being introduced to our players.
In recent years we have continued to raise the bar with our 17U Elite Eagles showcase team for top high school players. The Eagles Baseball Association travel teams – coached by PBI staffers – repeatedly win championships and tournaments at various age levels.
Teaching baseball, and teaching the life-lessons associated with the Game Of Baseball is such a wonderful thing. At PBI, we do both with a passion, and a respect for The Game. The PBI staff is trained to teach The Game in such a way that makes it both fun and exciting. Creating great baseball memories that last a lifetime is our goal for all of our students and their families.