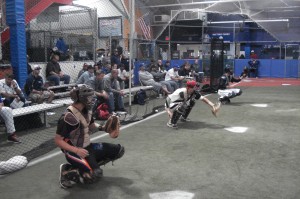 Each November Professional Baseball Instruction invites college coaches, recruiters and professional scouts from around the area to come watch the area's top high school and junior college pitching and catching prospects work out in our fully-equipped indoor facility for our Battery Invitational Showcase. The date for our 2017 event is Saturday November 4th.
This is a great opportunity for you to showcase your skills up close and personal to DI, DII, DIII, NAIA, JUCO colleges and professional scouts.
For complete details including price and a registration form click here.
Check out highlights from our 2017 event (for video highlights from previous years, scroll to the bottom of the page).
CLICK HERE for radar gun readings and pop times from our 2017 event.
Click here to see pictures from our 2017 event.
Click here to see pictures from our 2016 event.
Click here to see pictures from our 2015 event.
Click here to see pictures from our 2014 event.
---
Here's a preview video including footage from our 2015 pre-showcase workout.
Here's a video look at an individual pitcher's day at our 2015 showcase. It takes you from sign-in, to stretching, to loosening up, playing long toss on flat ground, throwing a warm-up bullpen, to throwing off the mound in front of college recruiters and professional scouts.
Here are some comments from past events –
Mike G – father of Anthony – RHP, class of 2017, St. Mary's High School
"We would like to thank you for the opportunity that Anthony was given to participate in the catcher/pitcher showcase this past Saturday. It was extremely organized and no question well worth its weight in gold."
Joseph C – father Joe – RHP, class of 2015 Pine Bush High School
"I just wanted to send my compliments for a such a wonderful showcase you put on. I've attended so many of these events and yours was the best by far. I plan on telling anyone who is interested in attending any baseball showcases that they should contact PBI before they do anything else."
Tom S – father of Thomas – RHP pitcher, class of 2014 Paramus Catholic High School
"I wanted to thank you and PBI for the great pitching/catching showcase my son and I attended at your facility last weekend. We have spent a small fortune this year on camps, travel baseball (up and down the East Coast) and countless "clinics" all over the North East for my son, Tom to showcase his pitching ability. (After your showcase) we have received offers from 3 Division 1 schools, 2 Division 2's and have now scheduled official visits to 4 more D1's and our phone has been busy since we left PBI last Saturday. And we didn't have to spend a fortune booking flights, hotel rooms and car rentals…. You are less than 20 minutes from our home. Thank you again for hosting a top-notch event."
David V. – father of David – RHP and Catcher, class of 2014 Burlington Township High School
"Excellent showcase this past weekend. I was definitely impressed at the quality time each kid got to showcase their stuff in front of the coaches in attendance and was as equally impressed at the turnout of coaches for the event."
Chris C. – father of Joe – RHP, class of 2014 DePaul Catholic High School
"My son Joe attended your pitcher/catcher showcase today and I have to say it was tremendously well run. We have been to showcase tournaments and many college prospect camps and your event was the best of them all. The turnout was very impressive."
Cesar Presbott – New York Yankees scout
"Great job, I really enjoyed, a lot of good kids."
CONFIRMED COLLEGES AS OF 11/1/17
Arcadia University
Bergen Community College
Brookdale Community College
Camden County College
City College of New York
College of Mount Saint Vincent
County College of Morris
Eastern Nazarene College
Fairleigh Dickenson University (Teaneck)
Keystone College
Manhattanville College
Middlesex County College
Montgomery County College
Mount St. Mary's College
Muhlenberg College
New York University
Philadelphia University
Post University
Ramapo College
Rockland Community College
Rutgers- Newark
Saint John's University
Seton Hall University
Siena College
Stevenson College
TCNJ
University of Scranton
Washington College
William Paterson University
CONFIRMED PROFESSIONAL TEAM SCOUTS AS OF 11/2/17
Atlanta Braves
Chicago Cubs
Cincinnati Reds
Cleveland Indians
New York Yankees
Tampa Bay Rays
Texas Rangers
Rockland Boulders
---
Listed below are colleges and scouts that are regular attendees, but we just haven't gotten direct confirmation from them yet. You can most likely expect to see some of the schools below as well. We just didn't add them to the list above because we haven't 100% confirmed them.
Bloomfield College
Caldwell College
Central Connecticut State University
Cumberland County College
Dean College
Dickinson College
Dominican College
Drew University
Elmira College
Fairleigh Dickenson University (Madison)
Felician College
Hofstra University
John Jay College
Kean University
Keystone College
Lackawanna College
Lafayette University
Lehigh Carbon CC
LeMoyne College
LIU Brooklyn
Marist College
Mercer County College
Mitchell College
Montclair State University
Muhlenberg College
Neumann University
New Jersey City University
New England College
Nichols College
NJIT
Nyack College
Pace University
Post University
Quinnipiac University
Raritan Valley CC
St. Joseph's College of Brooklyn
St. Peters College
St. Thomas Aquinas University
Southern Connecticut State Univ.
Sussex County College
Rockland CC
Rutgers University
Sacred Heart University
Wilkes University
Baltimore Orioles
Cleveland Indians
Philadelphia Phillies
Pittsburgh Pirates
St. Louis Cardinals
Seattle Mariners
---
Schools/Teams That Have Attended In Previous Years
These are the schools and professional teams that have joined us in the past. You can expect to showcase your talents in front of a similar collection every November.
Alvernia University
Arcadia University
Bergen Community College
Bloomfield College
Bloomsburg University of Pennsylvania
Caldwell College
Camden County College
Centenary University
Central Connecticut State University
Chicago Cubs
Cincinnati Reds
City College of New York
Clark University
Cleveland Indians
College of NJ
County College of Morris
County College of Rhode Island
Cumberland Community College
DeSales University
Dickinson College
Dominican College
Drew University
Elmira College
FDU – Florham Park/Madison
FDU – Teaneck
Felician College
Florida Marlins
Fordham University
Globe Tech
Gloucester County College
Hofstra University
Holy Cross
Immaculata University
Iona College
John Jay College
Kean University
Keystone University
Lackawanna College
Lafayette University
Long Island University
Manhattan College
Manhattanville College
Marist College
Mercy College
Misericordia
Mitchell College
Monroe College
Montclair State University
Mount Saint Mary's College
Muhlenberg College
New England College
Neumann University
New Jersey City University
NJIT
New York Mets
New York Yankees
Nyack College
NYU
Orange Community College
Pace University
Philadelphia Phillies
Polytechnic University
Queens College
Quinnipiac University
Ramapo College
Raritan Valley Community College
Rockland Boulders
Rockland Community College
Rowan University
Rutgers University
Rutgers-Newark
Sacred Heart University
Salem Community College
Seton Hall University
Siena College
Southern Connecticut State University
Springfield College
Stevens Tech
St. John's University
St. Joseph's College of Brooklyn
St. Louis Cardinals
St. Peter's University
St. Thomas Aquinas College
SUNY New Paltz
Sussex County Community College
Tampa Bay Rays
TCNJ
Texas Rangers
UMASS – Boston
University at Albany SUNY
University of Bridgeport
University of Indianapolis
University of Maryland (ES)
University of Pennsylvania
University of Redlands
Villanova University
Wagner College
Wesley College
Wilkes University
William Paterson University
VIDEO HIGHLIGHTS
2016 – https://youtu.be/RScuW8ajEPw
2015 – https://youtu.be/4aEpUE5nuPw
2014 – https://youtu.be/0rICzEhDAJM