Think of Professional Baseball Instruction as a warehouse of baseball information, stored in the collective experiences of our instructors who have combined for 100 years of playing, coaching, scouting and managing at the professional level – including the major leagues.
That's called intellectual firepower – at your service. That's why we can say with confidence that you'll be properly trained at PBI. You'll learn to play baseball…the right way.
DOUG CINNELLA – Founder & President/CEO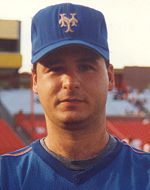 Doug isn't just an executive sitting behind a desk, married to his iPad. He's a to-the-bone baseball junkie, having played and lived the dream just like you.
Talk about real-world experience: before retiring, Doug pitched over 1000 innings as a professional, starting with his third-round selection by the Baltimore Orioles in the 1986 draft. That made him the 97th player picked in the entire nation, an honor he validated by throwing two no-hitters and being named the NY-Penn League's Most Valuable Player in his first year in the pros. In fact, Doug is the only pitcher in the history of professional baseball to record his first two career victories via no-hitters.
Doug's' career continued to thrive after being traded to the Montreal Expos in 1988, when he was named to the Florida State League's All-Star team, and was also chosen as the Topps Player of the Month. Doug's manager at the time was the legendary Felipe Alou, a three-time All Star who played with the Giants, A's and Yankees, among other teams, and was named National League Manager of the Year in 1994 with the Expos.
It was through Alou that Cinnella learned the basics of instruction and the subtle ways to get the most out of his players. Doug has never forgotten the gift of self-confidence bestowed upon him by Alou, especially after becoming a free agent in 1990 and signing with the New York Mets. Now as a hometown boy playing for the team he rooted for, Doug made it all the way to the Mets' Class-AAA affiliate at Tidewater, where he played for two years.
Of course, no one has forgotten Doug's legacy here in Bergen County, where he was All-League, All-County and All-State pitcher at Paramus High School. Doug's collegiate days at Seton Hall University still put him among the elite as well, as he holds the school record for strikeouts in one game (17 in 7 innings). His achievements have been honored with inductions into the Paramus High School Hall of Fame and Seton Hall University Athletic Hall of Fame.
Currently scouting for the Cincinnati Reds, Doug also served as fellow-PBI coach Jeff Remo's pitching coach at Mahwah High School.
LEO MAZZONE – Major League Advisor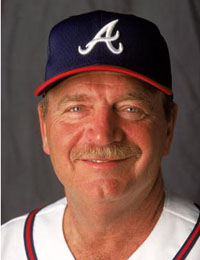 The Atlanta Braves dominated the National League throughout the 90s and early 2000's because of their pitching – in fact, we may never again see a trio of starters like Greg Maddux, John Smoltz and Tom Glavine, all of whom are now members of the National Baseball Hall of Fame.
But who coached them? Who taught them? Who maintained this exquisite piece of machinery that led to 14 division titles, four ERA titles, seven Cy Young Awards and nine 20-win seasons?
Our very own Leo Mazzone, who served as the Braves' pitching coach from 1979-2005 and worked with the Baltimore Orioles from 2006-2007. Mazzone is currently a color commentator on Fox and a co-host on "The Rude Awakening" morning show on Atlanta's WCNN-AM.
More importantly, Mazzone shares his experiences from his days working with "The Big Three" at PBI, where young pitchers learn from the man behind the curtain. There's no substitute for experience, and Mazzone has a lifetime to draw upon.
Want to see some of what Leo's brought to us at Professional Baseball Instruction? Check out some of his instructional videos at Inside Baseball which offers the world's largest online library of baseball training videos from pros like PBI Major League Advisors Sam Perlozzo and Leo Mazzone.
SAM PERLOZZO – Major League Advisor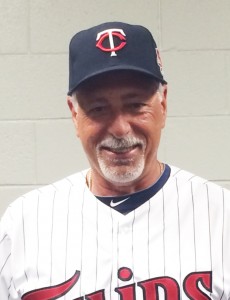 PBI Advisor Sam Perlozzo came up through the Minnesota Twins system and spent time at the Major League level with Minnesota and the San Diego Padres before moving into the coaching ranks where he's considered one of the best teachers of the game. Sam's baseball resume includes a World Series Championship in 1990 while coaching with the Cincinnati Reds. Following a stint managing the Baltimore Orioles, Sam spent time with the Seattle Mariners before he joined Charlie Manuel's coaching staff with the Philadelphia Phillies where he served as 1st base coach. He is now the minor league infield and baserunning coordinator for the Minnesota Twins. PBI's infield programs are directly designed in consultation with Sam.
Check out instructional videos by Sam on Inside Baseball with other pros like PBI advisor Leo Mazzone, Roy Halladay, Dave Magadan and more.
CLINT HURDLE – Major League Advisor

Every so often Clint Hurdle will text his friends an inspirational message of the day, just a few words of optimism that speak to his ability to motivate. The texts are delivered randomly and for no particular reason other than Clint's love of life and people.
He's also passionate about baseball, specifically about teaching and leading. His charisma rubbed off on the Pittsburgh Pirates, who, under Hurdle, made it to the post-season two years in a row after 20 consecutive losing seasons.
Hurdle's ability to turn around a depressed franchise earned him the National League Manager of the Year award in 2013 and a second-place finish for the award in 2014.
Hurdle has been wrapped in baseball's tentacles in every way possible. Besides his managerial success, he made it to the cover of Sports Illustrated in 1980 as a can't-miss prospect with the Kansas City Royals, eventually playing with the Reds, Mets and Cardinals.
Hurdle coached too, hooking on with the Texas Rangers as their hitting coach in 2010 after managing the Colorado Rockies to the World Series in 2007. Clint returned to the Rockies front office starting with the 2022 season as an assistant to the general manager.
At PBI, we value the thinking-man's approach to baseball, which is why Hurdle is such an important asset. Clint has devised a hitting program perfectly suited for the young ballplayer, as he once was. Hurdle's input comes straight from the top, a direct pipeline from one of the industry's most advanced minds. His results speak for themselves.
PATRICK KIVLEHAN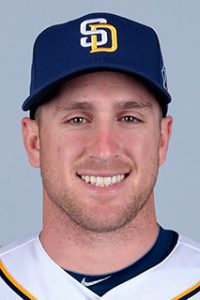 Patrick Kivlehan joined the PBI staff in September 2015 literally at the doorstep of Major League Baseball. A two-year varsity starter at St. Joseph's (Montvale), Patrick set the single-season home run record (14) in his senior year in a lineup that included current Chicago Cubs infielder Tommy La Stella. Patrick went to Rutgers where he focused on football. In the spring of his senior year he returned to baseball and put up an incredible .392/.480/.693 season that included 14 home runs, 50 runs batted in and 24 stolen bases in 51 games. It was no surprise when he was named Big East Player of the Year.
Patrick was drafted by the Seattle Mariners in the fourth round of the 2012 MLB draft and moved through the Mariners minor league system. He was traded to the Texas Rangers during the 2015 off-season and started 2016 in their minor league system. He was traded back to Seattle in May 2016 and acquired by the San Diego Padres in August 2016. My made his MLB debut on August 20, 2016 and marked the occasion by hitting a 461-foot home run for his first big league hit!
Patrick was acquired by the Cincinnati Reds just prior to the end of the 2016 regular season; he was also named one of the 50 greatest athletes in Rutgers history by the Star Ledger He played in the New York Mets minor league system in 2018 and was signed by the Arizona Diamondbacks where he finished the season at the MLB level. Patrick signed with the Pittsburgh Pirates in October 2018 and spent the 2019 season with the Pirates and Blue Jays organizations. He was also with Toronto during the 2020 season. Kiv is also an Olympic medal winner! He was part of the silver-medal winning USA Baseball team in the Tokyo 2020 Olympics. He signed with the Chicago White Sox for the 2022 season.
STEVE HAYWARD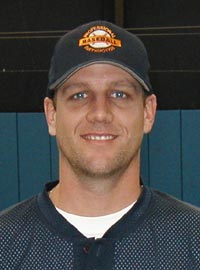 Steve Hayward's reputation as one of the best pitching coaches in New Jersey is well-deserved. The former Boston Red Sox farmhand was drafted after his dominating 1993 college season at Seton Hall when he achieved Big East MVP honors. He has coached at Don Bosco Prep in Ramsey and St. Joseph's in Montvale. Steve's unmatched desire to motivate kids is genuine. He's the founder of the Baseball Health Network and also PBI's College Recruiting Director.
BOBBY LINEBURG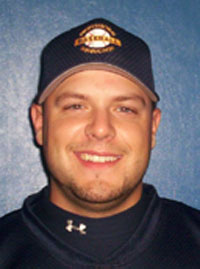 Bobby's enthusiasm for baseball and teaching kids how to play are obvious from the moment you walk into PBI!
A former 1st Team All-League pitcher while at Indian Hills High School, Bobby also pitched at the collegiate level for Morris County College and attended tryout camps with the Florida Marlins and the Chicago White Sox.
Bobby also created our popular 7U Program here at PBI.
RICK REX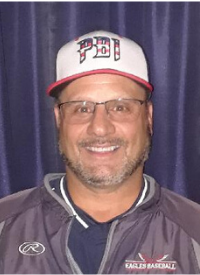 Rick was a three-year varsity stater at Indian Hills High School. He was an all-league player all three years, a two-time all-county player, and a second team all-state his senior year.
Rick went on to be a four-year starter at Division 2 St. Leo College now St. Leo University In St. Leo, Florida where he enjoyed a fine career in the Sunshine State Conference becoming the all-time record holder for most walks/base on balls in his career.
Rick has been coaching men's baseball at all different levels for the better part of 30 years including the Suburban, Stan Musial, Met Leagues and he currently coaches in the Over 40 and Over 35 PATPNJ Men's Baseball League.
For the last 4 seasons Rick has coached freshmen baseball at Mahwah High School and has been an assistant to head coach Jeff Remo at the varsity level.
Rick joined the PBI family 4 years ago coaching at the college, high school and 13/14U divisions.
Rick is a good baseball man who brings energy and vigor to the staff.
KEITH CEDRO – Strength & Conditioning Director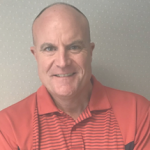 Keith's experience is extensive to say the least, but more importantly, he has vast experience specific to baseball including the New York Mets Strength & Conditioning coach from 1986– 1997. He was also a Conditioning Consultant to the New York football Giants & Seton Hall University athletics. Keith is the founder of "Linear Stretch Conditioning Systems," a founding partner of "Major League Fitness Centers," and the inventor/creator of the Warrior Pushup Challenge, which raises funds for disabled veterans. He was also the longtime host of ESPN's "Cross Training with the Pro's."
NICHOLAS SCHROEDER – Strength & Conditioning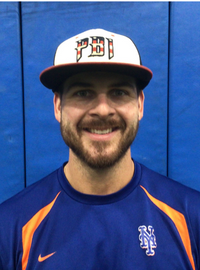 Nick comes to Professional Baseball Instruction after spending a few years as a personal trainer at New York Sports Club. NASM certified, Nick specializes in workout programs designed to help each individual athlete reach their personal fitness goals. He's also a youth fitness specialist, teaching young players everything from basic motor skills to explosive on-field movements.
JEFF REMO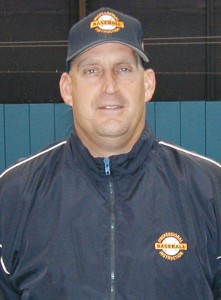 A former Mahwah High School All State Player. Rutgers University Head Baseball Coach Fred Hill maintains that Jeff is the best high school hitter to ever come out of the State Of New Jersey. He was selected by the Chicago Cubs in the 6th round of the 1980 Major League Draft and played professionally for 3 years. We call him "The Hit Doctor" here at P.B.I. as a tribute to his ability to teach hitting. Jeff also has a personality that the kids just love. As the Mahwah High School varsity baseball head coach, he led the 2008 and 2012 Thunderbirds to State Championships. He's also the head football coach at Mahwah and earned his 100th career high school football victory as head coach in September 2015. He led the Thunderbirds to back-to-back state championship titles in football in 2015 and 2016.
TYLER SHEDLER-McAVOY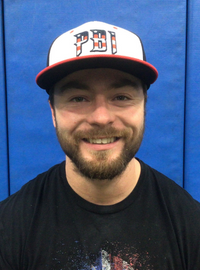 Tyler is another former PBI student who's now a part of our training staff. Following a stellar high school career at Northern Highlands, Tyler went on to Seton Hall where, among other things, he was a 2021 preseason Co-Big East Player of the Year.
JIM MONAGHAN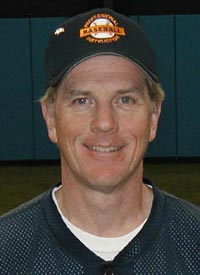 Well-known for his 19 years with legendary WNEW-FM in New York City, Jim has over 25 years of experience coaching and playing baseball. He had a free-agent tryout with the New York Yankees in the mid-1980's and spent two years in baseball management in the front office of the Newark Bears. Jim coached the Don Bosco Prep freshman baseball team to back-to-back Bergen County championships for the first time in the school's history. He is also PBI's Director of Public Relations/Marketing and keeps his hand in radio working weekday mornings at WDHA in Cedar Knolls.