The PBI Membership Rewards Program!
Professional Baseball Instruction offers you a chance to receive exclusive perks and discounts on lessons, training, merchandise and more.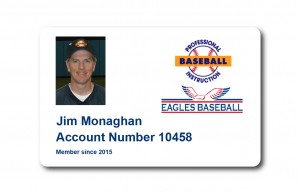 PBI MEMBERSHIP REWARDS PROGRAM ANNUAL BENEFITS
30-minute private lessons for just $56 (regularly $69)
60-minute private lessons for just $112 (regularly $139)
20% off indoor summer camp
15% off outdoor summer camp
15% off all birthday party packages
10% off all mini clinics
COST – $100 annual membership, $195 family membership
EAGLES PLAYERS – You're automatically enrolled in our PBI Membership Rewards Program…and with NO ANNUAL FEE!
It's simple to become a member – just call us at 800-282-4638.
Membership fees are non-refundable.