Professional Baseball Instruction
& the
Baseball Health Network
are looking for baseball players, ages 11 and up, to participate in a
FREE
research study being conducted on
Saturday February 28
by
BHN Founder Steve Hayward
and
Dr. Christopher Ahmad
, Team Physician of the
New York Yankees
.
The study is designed to detect early warning signs of youth elbow injuries and to help protect the millions of kids playing baseball around the world.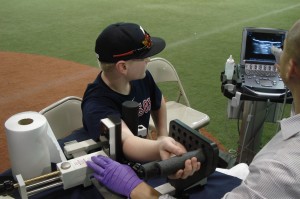 The study will take place on Saturday February 28 beginning at 9AM at Professional Baseball Instruction, 107 Pleasant Ave, Upper Saddle River, NJ. Each participant will select a time slot and each individual session will take just 15-20 minutes.
Each player will be required to fill out a brief pitching and medical history and then receive a FREE ultrasound of both the throwing and non-throwing elbows. Ultrasounds will be administered by attending radiologists from Columbia Presbyterian Hospital in New York City.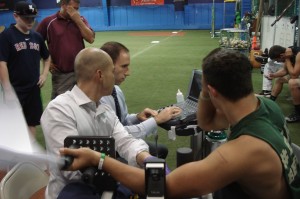 ***The radiologists DO NOT want to know whether you are right or left handed.
There is NO throwing or physical activity required. Please wear a short sleeve t-shirt for the ultrasound.
There is NO COST for this study; we just need your help to gather enough data to reduce the epidemic of arm injuries throughout the United States.
Times are available by appointment only. To register, please call PBI TOLL FREE 800-282-4638 ext 100 by Friday February 27.