Professional Baseball Instruction joins the New York Yankees and the baseball community in mourning the recent passing of scout Kelly Rodman.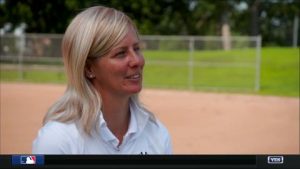 One of only three female scouts in MLB (along with Amanda Hopkins of the Seattle Mariners and Haley Alvarez of the Oakland Athletics), Rodman joined the Yankees as an associate scout in 2014 and advanced through the organization. She represented the Yankees at the 2019 draft in Secaucus, New Jersey.
Players, coaches and Kelly's peers around baseball joined on social media in remembering Kelly.
Today we lost an amazing woman, Kelly Rodman, to a battle with cancer. She was an amazing scout, baseball mind, and all around human. I'll miss seeing you at the turkey drive every year, our talks about baseball but I'll miss even more our talks about life. RIP Kelly ❤️❤️

— Ben Ruta (@benJAMINruta) March 4, 2020
Throughout the draft process I got to meet Kelly Rodman. The passion that she had for the sport of baseball and people in general was unmatched. Unfortunately today she passed away to a battle with cancer. I wish everyone could have met her. Rest easy Kelly❤️ #foreverYankees

— MAX BURT (@Maxburt14) March 4, 2020
Y'day we lost Kelly Rodman a tremendous scout and kind soul of a person to Cancer. She wanted to be the best scout in the game and wanted nothing to be handed to her. Her dedication to the Yankees was second to none. Big hole in a lot of scouts hearts and in my deptartment. https://t.co/cLH20iSVqa

— Damon Oppenheimer (@uscnyy2) March 5, 2020
We are all saddened by the passing of @Yankees Scout Kelly Rodman. Kelly was a beacon of light that shined bright across the Northeast baseball landscape and she will be missed. My condolences to her family, Cesar Presbott and Matt Hyde. Rest In Peace Kelly. pic.twitter.com/2G25vBWBol

— Craig Noto (@TheNoto24) March 5, 2020