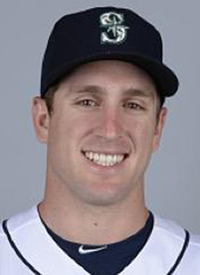 Patrick Kivlehan has posted some serious baseball numbers…and he's only just getting started.
Professional Baseball Instruction is thrilled to welcome Patrick to our staff for the 2015-2016 off-season for private lessons. This is your chance to work one-on-one with Patrick, who is literally on the doorstep of his Major League Baseball career with the Seattle Mariners.
A two-year varsity starter at St. Joseph's (Montvale), Patrick set the single-season home run record (14) in his senior year in a lineup that included current Chicago Cubs infielder
Tommy La Stella
. Patrick went to Rutgers where he focused on football. In the spring of his senior year he returned to baseball and put up an incredible .392/.480/.693 season that included 14 home runs, 50 runs batted in and 24 stolen bases in 51 games. It was no surprise when he was named Big East Player of the Year.
Patrick was drafted by the Seattle Mariners in the fourth round of the 2012 MLB draft and has moved through the Mariners minor league system.
To schedule lessons with Patrick, call us TOLL-FREE at 800-282-4638.