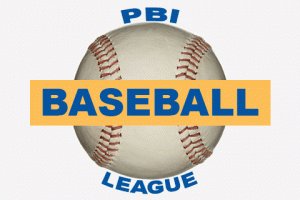 REGISTRATION FOR THE FALL 2017 SEASON IS NOW CLOSED.


PLAYOFFS – Don't you hate it when you came in fifth place, one point out of a playoff berth, on the outside looking in? NO MORE! EVERYONE makes the playoffs! It's a more inclusive playoff system. AND – we are working hard to have everyone finish on time!
PRIZES – Champions will receive T-shirts for each player along with the traditional individual medals – and NEW FOR 2017 – a FREE BERTH for another PBI season! With everyone making the playoffs – everyone has a shot! It's a great incentive to fight again for the ring in the next season! (NOTE – runner-up team will also receive individual medals.)
The PBI Baseball League – North Jersey's Premiere Travel League!
REGULAR SEASON – begins SUNDAY SEPTEMBER 10 and continues through the end of October.
PLAYOFFS – will be held in early-to-mid November.
GAME TIMES – determined by coaches. Games may be played on another day by agreement of both teams, but if you are not able to have a team of at least nine players on Sundays in the fall, this might not be the best league choice for your team.
FALL 2017 CHAMPIONS
8U – Northern Valley Coyotes
9U A – Rockland Elite Red
9U AA – Northern Valley Coyotes
11U 50/70 AA – Legit Baseball
13U – Bergen Express
14U A – Bergen County Hawks
18U – Hector Santiago Soldiers
LEAGUE MEETING – prior to the season, you will receive a link to a YouTube video which will take the place of the in-person meeting.
FALL SEASON SCHEDULES, SCORES AND STANDINGS ARE HERE. Standings will be updated as scores are received. The WINNING TEAM is to submit results to Jim Monaghan at PBI via email.
---
2017 PBI Baseball League Rules – The entire PBI Baseball League Rule Set with full index.
FOR A COMPLETE LIST OF TEAMS CONFIRMED FOR FALL 2017 PLAY, CLICK HERE.
YOUTH AGE LEVELS
8U 40/60
9U 46/60
10U 46/60
11U 46-60
11U 50/70
12U 46/60
12U 50/70
13U 50/70
13U 60/90
14U 60/90
HIGH SCHOOL AGE LEVELS
15U New Freshman
16U (formerly Junior Varsity)
18U (formerly Varsity – wood bat)
SKILL LEVELS
AAA – top travel teams, including club
AA – talent equivalent to a town All-Star team
A – talent level equivalent to a town recreation team
Please specify age, skill, and field size when registering.
NOTE – your team should pick the appropriate level based upon the combined skill of your players, not where they are from.
AGE CUTOFF
The PBI Baseball League is now using the new Little League age cutoff date of August 31 for appropriate age levels. See the chart below for details. For the fall 2017 season, the PBI League will be following the chart below.)
PBI Baseball League Age Chart
Current as of April 9, 2018
| BIRTH DATE RANGE | SPRING 2018 | SUMMER 2018 | FALL 2018 |
| --- | --- | --- | --- |
| 9/1/09 - 8/31/10 | 8 | 8 | 8 |
| 9/1/08 - 8/31/09 | 9 | 9 | 9 |
| 9/1/07 - 8/31/08 | 10 | 10 | 10 |
| 9/1/06 - 8/31/07 | 11 | 11 | 11 |
| 5/1/05 - 8/31/06 | 12 | 12 | 12 |
| 5/1/04 - 4/30/05 | 13 | 13 | 14 |
| 5/1/03 - 4/30/04 | 14 | 14 | 15 |
| 5/1/02 - 4/30/03 | 15 | 15 | 16 |
| 5/1/01 - 4/30/02 | 16 | 16 | 17 |
| 5/1/00 - 4/30/01 | 17 | 17 | 18 |
| 5/1/99 - 4/30/00 | 18 | 18 | |
| 5/1/98 - 4/30/99 | | | |
BAT REGULATIONS
On December 30, 2010 Little League International issued a moratorium on composite bats from the Majors Division on down. Since then, there has been an incredible amount of confusion regarding what bats are and are not legal. Even the umpires get confused sometimes looking at various bats trying to determine their legality.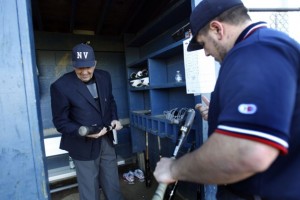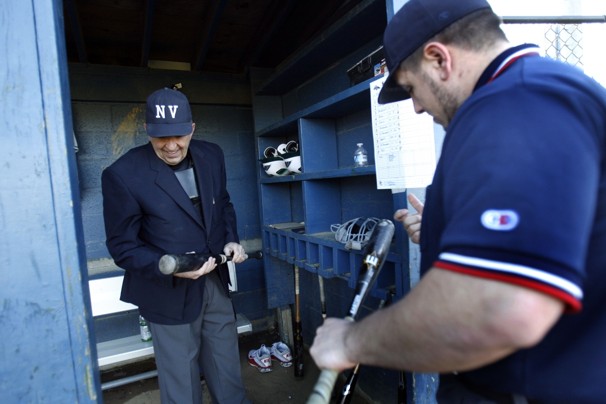 In an effort to make things simpler for teams, players, and parents, the PBI Baseball League will once again follow the Little League bat regulations for the 2017 fall season at the 40/60, 46/60, 50/70 and 60/90 field levels covering the age levels from 8U through 14U.
40/60 (8U) and 46/60 Divisions (9U through 12U) – Bats cannot have a barrel size bigger than 2 1/4″. Composite barrel bats are prohibited at these levels unless they have been approved by Little League International. For a complete list of approved 2 1/4″ composite bats click here. Additionally, all non-wood approved 2 1/4″ barrel bats must also have the BPF of 1.15 printed somewhere on the bat.
ALL 50/70 divisions (11U through 13U) & ALL 60/90 divisions at the 13U and 14U levels – Players at these levels may use non-wood bats with a 2 1/4″ barrel, but those bats must meet all approved Little League guidelines as per above. All non-wood 2 5/8″ composite barrel bats must meet the BBCOR -3 standard. All non-wood 2 5/8″ non-composite barrel bats may be any drop.
Beginning with the 2018 spring season, the new USA Baseball Bat Standard will be implemented by the PBI Baseball League. That means that bats approved for use for the 2017 season will no longer be acceptable for use in any PBI Baseball League game beginning March 2018.
IMPORTANT NOTE – umpires who are assigned to work PBI Baseball League games have the right granted to them by the League to require a batter to use a heavier bat based upon the physical size of the batter. There are some 12, 13 and 14U players who are too big to be using a -10 2 5/8″ barrel bat. For safety reasons, an umpire can determine such a player needs to use a heavier bat.
All high school divisions of the PBI Baseball League (freshman, junior varsity and varsity) will follow the nationally recognized high school guidelines for bats. All bats at those three levels must meet BBCOR -3 standards.
PITCHING REGULATIONS
9U through 14U – will use a pitch count through all divisions. 8U will have a 2-inning-per-pitcher rule. For the sake of clarification, an inning pitched consists of 3 outs.
HIGH SCHOOL DIVISIONS – all PBI League high school teams will follow the NFHS pitch count rules.
COST
REGISTRATION FEE – $225.
NO REGISTRATIONS WILL BE TAKEN WHATSOEVER AFTER 5PM MONDAY AUGUST 28.


LEAGUE REFUND POLICY – the registration price includes a non-refundable $25 per team administrative fee. NO REFUNDS WILL BE GIVEN ONCE THE SEASON HAS STARTED. Refunds for teams that drop out of the league prior to the start of the season will be made via check.
The PBI Baseball League cannot hold a space for you; teams are taken on a first-paid, first-served basis.
CONFIRMED TEAMS FOR FALL 2017
INFORMATION AS OF 9/7/17 6:30 PM
8U DIVISION
Clifton Chiefs (A)
Legit Baseball (A)
Northern Valley Coyotes (A)
Teaneck TBO (A)
9U DIVISION
BC Cyclones (A)
Clifton Chiefs (A)
HHB Rookies (A)
PBI Eagles (A)
Ramsey Baseball (A)
Rockland Elite Red (A)
Teaneck TBO (A)
West Milford Mountaineers (A)
Legit Baseball (AA)
Nanuet Knights (AA)
Northern Valley Coyotes (AA)
Ridge Green (AA)
10U 46/60 DIVISION
Nanuet Knights
North Rockland Hawks
Northern Valley Coyotes
Nutley Nationals
Ramsey Baseball
Stony Point Patriots
Teaneck TBO
11U 50/70 DIVISION
HHB Rookies (A)
Nanuet Knights Gold (A)
Ramsey Baseball (A)
RBI Red Storm (A)
Teaneck TBO (A)
Woodcliff Lake Lakers (A)
Bergen Thunder (AAA)
EC Wolverines (AA)
Glen Rock Panthers (AAA)
Legit Baseball (AAA)
Nanuet Knights (AA)
New Jersey Cubs (AA)
NJ Beasts (AA)
PBI Eagles (AA)
Pearl River Yankees (AA)
Ramsey Baseball (AA)
Stony Point Patriots (AA)
Teaneck Southern (AA)
13U 60/90 DIVISION
Bergen Express (AA)
Bergen Thunder Yellow (AA)
HHB Rookies (AA)
PBI Eagles
Teaneck TBO (A)
14U DIVISION
Belleville Rec Buccanneers (A)
Bergen County Hawks (A)
Monroe-Woodbury Ravens (A)
PBI Eagles (A)
Stony Point Patriots (A)
Teaneck TBO (A)
Muggeo Cardinals (AAA)
North Jersey Giants (AAA)
HIGH SCHOOL 15U/RISING FRESHMAN DIVISION
Green Knights
HHB Rookies
NJ Force
Stony Point Patriots
HIGH SCHOOL 16U DIVISION
Arsenal Elite
Garfield Thunder Bolts
Green Knights
Hector Santiago Soldiers
Lodi Rec Baseball
PBI Eagles
HIGH SCHOOL 18U DIVISION
Cliffside Park/Fairview
Englewood Raiders
Green Knights
Hector Santiago Soldiers
2017 PBI Baseball League Rules – the entire PBI Baseball League Rule Set with full index.
LEAGUE ADMINISTRATION
COMMISSIONER – Jim Monaghan
LEAGUE DIRECTOR – René Miranda
LEAGUE DIRECTOR – Joe Woelfel
LEAGUE DIRECTOR/UMPIRING – Ed Angrisani