When Team USA takes on Israel on July 30 in Tokyo, our own Patrick Kivlehan will be part of the roster!
USA Baseball made its roster announcement of the 12 pitchers and 12 position players on July 2, and Kiv is one of four players chosen for the outfield.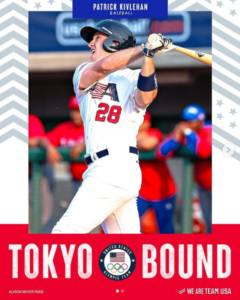 Patrick joined the Professional Baseball Instruction coaching staff during the winter of 2015-2016, just a few months before he made his MLB debut with the San Diego Padres in August 2016. His first major league hit was a home run!
Patrick was a two-sport high school star at St. Joseph's Regional High School in Montvale NJ. He went to Rutgers on a football scholarship where he played with future NFL stars Mohamed Sanu, Devin & Jason McCourty, Logan Ryan, and Duron Harmon. After his senior year of football, and not having played baseball since high school four years earlier, Patrick tried out for the Rutgers baseball team as a walk-on. He went on to hit .392/.480/.693 with 14 home runs, 50 RBI's and 24 steals in 51 games to win Big East Player of the Year honors.
Kiv is one of three former Rutgers Scarlet Knights representing the United States this summer. Joining him on the Team USA roster is former Met and Yankee Todd Frazier, and coach Darren Fenster who was a two-time All-American for Rutgers.
Baseball is back in the Olympics for the first time since 2008, and Team USA will be trying to win its first gold medal since the Sydney Olympics in 2000. Team USA is part of a six-team field that includes the Dominican Republic, Israel, Japan, Korea, and Mexico.