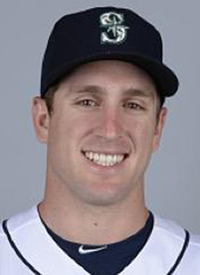 Seattle Mariners Executive Vice President & General Manager of Baseball Operations Jerry Dipoto announced today (November 20) that Patrick Kivlehan has been added to the team's 40-man roster.
Patrick has spent much of the 2015 off-season working here at Professional Baseball Instruction doing private lessons and clinics.
A 4th-round selection by Seattle in the 2012 Amateur Draft out of Rutgers University, Patrick has played in four minor league seasons in the Mariners organization, hitting .288 with 262 runs, 99 doubles, 16 triples, 70 home runs, 318 RBI, 54 stolen bases, a .352 on-base percentage and a .481 slugging percentage in 461 games.
In 2015, his first full season playing for AAA Tacoma, he slammed 22 home runs, 25 doubles, and drove in 73 runs.
"Patrick's been a great addition to the PBI staff this off-season," said PBI owner and president Doug Cinnella. "We're thrilled for him on this next step in his baseball career."