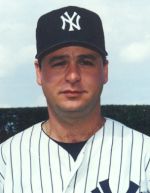 My name is Doug Cinnella and I am the president and founder of Professional Baseball Instruction. I want to thank you for your interest in PBI.
If you've ever met me, you know I'm passionate about people and things that are close to me. Like family, friends, and baseball.
I'm sure you've heard the saying, "Do something you like and you'll never work a day in your life." I get to do something I truly LOVE every day.
There's no game in the world like baseball and with PBI, I've created this incredible resource for players of all ages and surrounded myself with a staff that shares my passion for that game. And we bring it to you in a way unmatched by any of our competitors.
Whether it's our coaches – with more than 100 combined years of PROFESSIONAL playing experience, or our programs – from the age of 7 through college, when you train with PBI you're giving yourself the best possible baseball training experience there is.
At PBI, we teach baseball with a passion, and a respect for The Game. The PBI staff is trained to teach The Game in such a way that makes it both fun and exciting. Creating great baseball memories that last a lifetime is our goal for all of our students and their families.