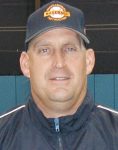 Jeff Remo is one of Professional Baseball Instruction's finest, and longest-tenured coaches, and one of the first coaches hired by PBI owner Doug Cinnella.
One of the most highly-regarded hitting coaches in the state, Jeff brings a background with him that includes a four-year professional baseball career in the Chicago Cubs organization.
In his own words, here are 5 things you didn't know about PBI's Jeff Remo.
1. I have basically driven a Ford F150 truck my entire life, starting when I was a 17 year old at Mahwah High School.
2.
I played football (QB) at UTEP (Univ. of Texas El Paso). Andy Reid (the current head coach of the Kansas City Chiefs) was offensive line coach, and Dirk Koetter (current head coach of the Tampa Bay Buccaneers) was my QB Coach.
3. Speaking of football, my younger brother Roger had brief stints in the NFL with the Indianapolis Colts and the Cleveland Browns.
4. My favorite music: Bruce Springsteen and country music.
5.
I have over 100 wins as a head coach at Mahwah High School in 3 different sports – football (121 wins including two consecutive State Sectional Championships won @ MetLife Stadium). softball (118 wins along with a State Sectional Championship), and baseball (182 wins that include 3 State Sectional Championships). I am hoping to get #200 this season. A personal highlight of all those wins was when my son Ryan Remo (currently pitching at Fordham University) was the winning pitcher for #100.
One of my favorite quotes, (I collect quotes:) "Always give people more than they expect to get." With that being said here is #6 (plus two more).
6. I'm actually very lucky to be alive! When I was 20 years old I was accidentally shot in the head with a gun (.22 pistol) just under my left eye.
2 more:
• I was just recently voted 2016 NJFCA (New Jersey Football Coaches Association) "Coach of the Year"
• I was just recently inducted into the NJIAA (New Jersey Interscholastic Athletic Association) Hall of Fame
And check out some of Jeff's baseball magic on the sidelines –