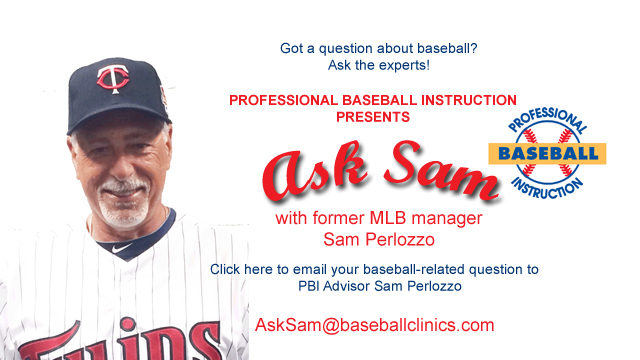 Welcome to the latest "Ask Sam."
I'm Sam Perlozzo and I'm the minor league infield and baserunning coordinator for the Minnesota Twins. A former manager and coach at the major league level, I am also one of Professional Baseball Instruction's Major League Advisors. Each month, I answer your baseball-related questions.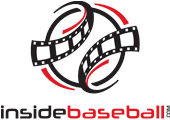 Before we get into this month's questions, I want to remind you about something that I'm involved in and very excited about. Fellow PBI Advisor Leo Mazzone and I have teamed up with former MLB players Roy Halladay, Dave Magadan, Jody Reed, Tom Foley and others on a new website called Inside Baseball. We offer the world's largest online library of baseball training videos with proven advice and training methods designed to help baseball players of all abilities improve their game. I hope you'll take a few moments to check out the website; there's a lot of excellent information there.
Now, let's get to your questions. And remember, if you have something you'd like to ask, email me directly – AskSam@baseballclinics.com.
Q:
Sam – with
David Ortiz
having retired last year, I was wondering how you prepped for him as an opposing manager? Do you recall any special moments your Orioles had involving him? And do you think he'll get voted into Cooperstown. Thanks, Jim
A: Jim – Pitching to David Ortiz was nothing you want to try to do as an opposing manager! I did that, or tried to, way too many times… especially when you had Manny Ramirez hitting behind him. About the best you could hope for was to keep the ball in the ballpark. The hardest part was that he could hit both righties and lefties.
I remember a few times when I would put one of those guys on so I could get a favorable match up with a left handed pitcher, and he would look into the dugout and smile at you. That's when I knew there was no real answer to him. Not to mention, that the more critical the at bat, the better he was. He just had that ability to put himself in the moment. He was one of the guys that loved hitting in the clutch. The other tough part of getting him out was the fact that he would hit the ball to all fields and wouldn't allow you to put a shift on (although that has become a habit in baseball now)!
As far as the Hall of Fame, I would think he is guaranteed a spot. I would think his numbers would be an easy election. He sure deserves it from my view! Thanks Jim. Hopes this helps. Sam
Q:
Sam – When relief pitchers warm up, wouldn't it be beneficial to have a mock batter or a silhouette at the plate in the bullpen? Is there a MLB rule against this, keeping in mind the open bullpen at Tampa? Rick
A: Rick – That's a pretty good question. Let me try and give you some reasons it does and doesn't happen. A lot of times it becomes a distraction to the pitcher. But let me clarify it a little more. There really isn't a sure way to do this. It all depends on the pitcher. Some like it, some don't. I think it becomes more useful and more accommodating when there really isn't anything on the line, like a real game. Pitching coaches and some pitchers use it more when they are throwing on the side or are in a teaching situation, such as when a pitcher is trying to improve a certain pitch or location of a pitch, where the batter gives him a better perspective of the outcome of the pitch.
During the championship season when there is little time to warm up and distractions are present – like how am I going to get the hitter out that I will be pitching to – it becomes too much for the pitcher to handle. Like I said, there is no right or wrong way to do this. It's the pitchers choice.
There is no rule against this as far as I know. Just to add something to the question, a lot of times hitters that aren't getting a lot of playing time like to stand in the box to stay sharp and track the ball so they will be fresher when called on to pinch hit or spot start. Seeing the pitches from a live arm can be very helpful to them. So that's it Rick. Keep an eye on them or watch some pre-game work and you just may see what you are looking for! Thanks, Sam
Q:
Sam – As a Mets fan, this is something I noticed last year. Have you ever seen
Jay Bruce
rocking back and forth at the plate? Any thoughts on why he does that? Thanks, Lynn
A: Lynn – I cant say that I know specifically about Jay Bruce, but I will be pretty close on why he does it and why most hitters do the rocking. Hitting is timing and most hitters are trying to get a starting position to be on time with the pitch. It's like shooting a gun – you have to cock the gun before you can shoot it. That's what hitters are doing. They are cocking the gun to be ready to fire on the pitch….on time. You must remember that your hands or body should never be going back when the ball is already on the way. Now you will have to rush to get the bat into the hitting zone on time. So what you are really seeing is Jay Bruce using his way to time himself backwards so that he is back at the point of release, and now only has to come forward to hit the ball.
Almost all hitters have some sort of cocking mechanism so as to get ready for the pitch. Some do more drastic movement and some are a lot more subtle. I bet if you watch all hitters more closely, you will see them all doing the same thing only in their way. What really matters is that you are in a good position when the ball is about to be released from the pitcher's hand. If you go too quick, you will be too early; if you go late, you will late to the ball. Realize that pitchers are trying to mess up the timing of the hitter and the hitter is trying to time the pitcher. The better the timing, the better chance you have to hit the baseball. So keep and eye on all the hitters, I bet you'll see the same thing as you do with Jay Bruce, only in a quieter manner. Thanks again, Sam
---
Thanks again for the great questions. I always enjoy talking baseball with people. Send your questions to me via email at AskSam@baseballclinics.com.