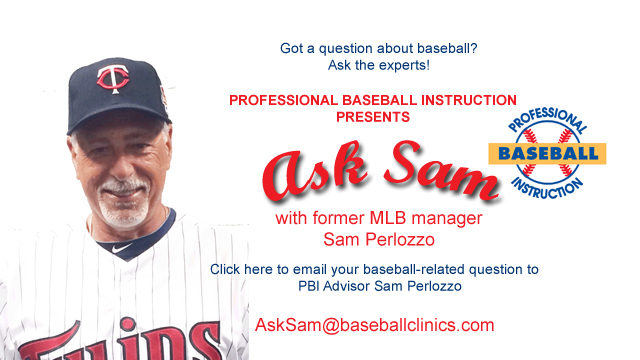 Sam Perlozzo is the current minor league infield and baserunning coordinator for the Minnesota Twins. A former manager and coach at the major league level, Sam is also one of Professional Baseball Instruction's Major League Advisors. Each month, Sam answers your baseball-related questions.
Have something you'd like to ask? Email Sam directly – AskSam@baseballclinics.com. Here's the latest from the "Ask Sam" mail bag.
Q: Sam – I have a baseball signed by you, Reggie Jackson, Ed Hearn, & Rich Pickett just to name a few but I'm wondering if you have any idea what year and what team that might be from? – Cathy
A: Cathy, that question brings back old and good memories! That happens to be the players that were on the 1983 Lynchburg Mets. I was manager and John Cumberland was my pitching coach. That team also featured Lenny Dykstra and Dwight Gooden. We had to win one of our last three games to make the play-offs and Dwight finished the game with his 300th strikeout! After the game, we sent him to AAA Tidewater where he won two more games in the play-offs with them. Lynchburg went on to win three straight against Winston Salem, I believe, to finish the regular season at 93-43 and 96-43 after the play-offs. Probably one of the winningest minor league seasons on record. Needless to say it was quite a good year. Dwight Gooden made the jump from A ball to the major leagues the following year and the rest was history. Cathy, thank you for bringing back a fond memory! My Best to you, Sam
Q: Hi. Sam. My name is Dariel Baez and I am very dedicated and work really hard in baseball. What are your thoughts on the Hitter's Power Drive? I'm looking to see what tool can help me become a better hitter so I can reach to the ultimate level of baseball. I looked at the details of it and saw videos about it…it looks like it can really help hitters, but I want to know if you think it is worth trying the Hitter's Power Drive to add it into my workout.
A: Hey, Dariel. I have to say you aren't the only one who hadn't seen the Power Drive! I looked up the link to see what it is all about. Since I've never really seen it in person it will be a little more difficult to assess the benefits. In general, I'm not a gimic guy, but there are a lot of products out there that can help players from all levels. The trick is to find one that works for you. With that said, I would try it if you are having trouble with your stride to the ball. Remember if it isn't broken, don't try to fix it. It looks somewhat awkward to me, but I understand the principle that it is teaching. And if that is a problem area for you, then by all means try it. That doesn't mean it will necessarily work. You sound like someone who will do anything to get better. That in itself is a great start. Try as many products as you like but be smart and only continue on with the ones that help. Don't force the issue. Nothing replaces the hard work and dedication that you have. Finally, Dariel, I will say there are a lot of drills out there to improve your hitting. Pin-point the ones that will help in the area of need. And continue to work hard in the ones that are working. Hitting is the toughest thing to do in all of sports. Simplify it as much as possible for your best success. Hope this helps. Let me know how you are doing later on. Best of luck, Sam
Q: Sam – I have kind of a rules question for you. The San Francisco Giants will be playing the last few innings of a suspended game against the Rockies the first week of September. Who can play and who can't? The rosters expand on the 1st but since the game started in May will they have to play with a 25 man team? Does player turnover have any effect? Thank you, Scott.
A: Scott, that's a very good question. I'm not going to profess to be a rules whiz but as far as I know, the guys who were in the lineup that day have to be in the lineup for the finish of the suspended game. The roster expansion shouldn't have anything to do with the lineup UNLESS the player is no longer on the team. Then you can substitute for the player who is no longer there. You will have to play with the players on your roster at that time and substitute as always. The good thing about that is you may have already used up some substitutions and the expanded roster allows you more room to maneuver. At the same time, if you have taken a few guys out of the game and they are sitting on your present roster, they will not be allowed to re-enter the game. The general rule of thought is to make the game as legitimate and as close to the original game as possible. The movement of players allows for some changes of course, but it isn't a free-wheeling charade. I think this is right, if it isn't let me know. I just saw a rule change from a year or two ago and didn't know that one. I really need to get me a copy of the 2014 rule book as there have been some noteworthy changes over the past two years. Rules are a tricky part of the game and we need to stay up on them and not let the game pass us by!! Good luck, Sam
---
Thanks again for the great questions. I always enjoy talking baseball with people. Send your questions to me via email at AskSam@baseballclinics.com.