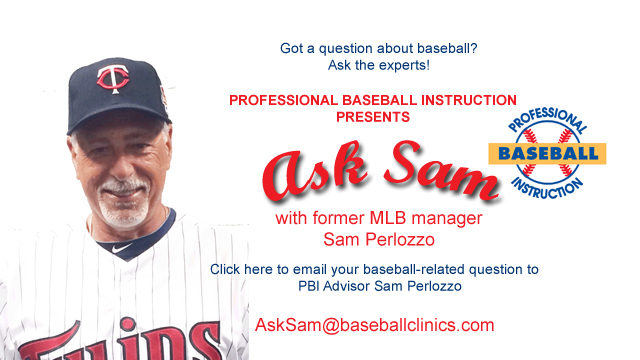 Welcome to the latest "Ask Sam."
I'm Sam Perlozzo and I'm the minor league infield and baserunning coordinator for the Minnesota Twins. A former manager and coach at the major league level, I am also one of Professional Baseball Instruction's Major League Advisors. Each month, I answer your baseball-related questions.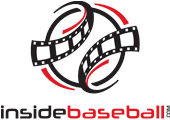 Before we get into this month's questions, I want to remind you about something that I'm involved in and very excited about. Fellow PBI Advisor Leo Mazzone and I have teamed up with former MLB players Roy Halladay, Dave Magadan, Jody Reed, Tom Foley and others on a new website called Inside Baseball. We offer the world's largest online library of baseball training videos with proven advice and training methods designed to help baseball players of all abilities improve their game. I hope you'll take a few moments to check out the website; there's a lot of excellent information there.
Now, let's get to your questions. And remember, if you have something you'd like to ask, email me directly – AskSam@baseballclinics.com.
Q:
Sam – I have a question about warming up and stretching before you start your baseball activities. A Division 1 college strength and conditioning coach informed one of his players that is is unnecessary to stretch and throw before you start you baseball practice. It was also unnecessary to run after you have pitched in a game to break down the lactic acid that has built up. Dave (high school coach in Florida)
A: Dave – Being a coach in the Minnesota Twins organization, I would say our strength and conditioning coaches would not follow that advice. Our kids warm up each and every day they are on the field. When we break from stretching and exercising we go straight to base running and then to throwing so we can start our daily drills. I would say to you, Dave, just think about yourself – can you go out there and throw a ball well without warming up first? Or could you run your best sprint without loosening your legs first? If your answer is "no," then only common sense can be your answer. I'm no spring chicken at 66 yrs old, so I can tell you I have to loosen up just to stand. HA!
As far as your running after you pitch, I can tell you our guys don't do that. Our guys do their running on days they don't pitch with the exception of relievers. So starting pitchers run each day they don't pitch and relievers every day. I'm not saying you shouldn't run after you pitch, only that we don't do it in the Twins organization. Sounds to me that would be an individual choice. We all have our things that we think works best for us so I would follow my body on most things. Hope this helps! Sam
Q:
Sam – I was moved from shortstop to third base this season and I'm experiencing some issues with the longer throw. My coach told me he thinks I'm on my heels when I field the ball. Could that be part of the problem? Thanks, Jack
A: Jack – without seeing you, that is a hard question to answer but I'll try to give you some ideas that may help you. First of all, the throw from third base isn't longer than from shortstop. You may have been moved because the throw was too long for you at SS. The issues with the longer throw are not stated. Is it soreness? Accuracy? Strength? I am going to guess it is both soreness and strength to get the ball there. When you mention being on your heels when you catch the ball, and staying on your heels to throw, then that could be a problem. It is always best when possible to be moving towards the base you are throwing to in order to create momentum. Footwork toward the base creates movement for your throw to be as strong as possible. I will tell you if arm strength is your problem, then I would recommend long tossing on a daily basis if possible. You want to be able to keep our muscles stretched out to help create strength and avoid injury or soreness.
Arm angle could be an issue also. Most infielders throw high 3/4ers. Any undue stress on your arm from slinging actions can also affect strength. So my advice would be to long toss, get a proper throwing angle, and move towards the base you are throwing to as much as possible. This should all help. If you do field on your heels, then quicken your footwork to get back to your toes before your throw. This should all help. Good Luck! Sam
Q:
Sam – Have you had a chance to see
Tim Tebow
at all this spring? I'm not caught up in Tebow Mania, but I have to admit I'm intrigued by what he's attempting to do. His swing seems a bit stiff, but I may be missing something. Your thoughts? Thanks, Tom
A: Tom – I can understand the hype of Tim Tebow. I have not seen him play in person, but I would say your assessment of a stiff swing is accurate. That doesn't mean it won't necessarily work. You have to remember that you are dealing with a 250-pound, muscle-bound football player!! He obviously needs time to loosen and stretch his muscle to adapt more to the requirements of baseball. It's not easy for someone to just step in and excel at baseball when you devoted most of your time to football.
I wish I could add more but baseball is hard enough when you play it every day! What other sport can you fail 7 out of 10 times (hit .300) and go to the Hall of Fame!!??
So lets see where it goes for Tim. He has the heart and determination to do it. He has the strength to handle the scrutiny, so I wish him good luck and hopefully he fulfills his dream. If not, he went down fighting. Good luck to Tim! Thanks, Sam.
---
Thanks again for the great questions. I always enjoy talking baseball with people. Send your questions to me via email at AskSam@baseballclinics.com.