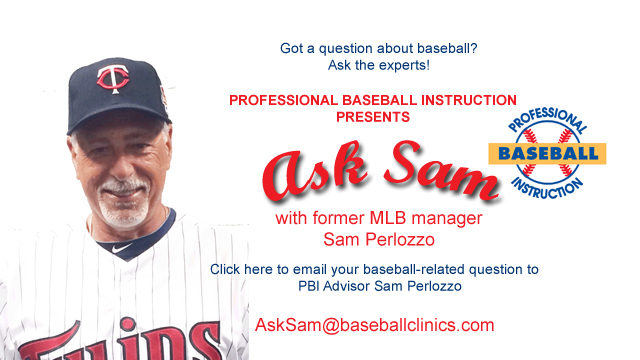 Sam Perlozzo is the current minor league infield and baserunning coordinator for the Minnesota Twins. A former manager and coach at the major league level, Sam is also one of Professional Baseball Instruction's Major League Advisors. Each month, Sam answers your baseball-related questions.
Have something you'd like to ask? Email Sam directly – AskSam@baseballclinics.com. Here's the latest from the "Ask Sam" mail bag.
Q: Sam – What is the "average" pre-game warm-up throws a starting pitcher takes? I know it will be a range and not a specific number. Thanks, James.
A: James – The amount of warm up pitches a starting pitcher takes is widely varied from pitcher to pitcher. Some guys go out there and get loose very quickly and quit. Of course they don't go out as early as some of the others. I know guys that must count every pitch and throw the same amount , exactly, each time. I would assume they start out with so many fastballs, in and out. Then so many breaking balls, in and out. Then they use their change-up for so many pitches also.
There really is no set number for getting ready. We are all different human beings and do and feel different. Therefore, some people get ready quicker, some not so quick. The key is to be ready and not to over do your warm ups so that you are fresh for the start of the game. Extremely hot days of summer can shorten anybody's warm up pitches!! Really cold days early in the season may take a bit longer. I would suggest let common sense rule your time and amount. It should only take a few times to get the hang of it. Just be ready for the first pitch of the game, and by all means, prepare yourself, always, to go NINE !!! Hope this helps, Sam
Q: Sam – Here's the situation. There's a man at first less than two outs. The ground ball is hit right back to the mound, pitcher fields and turns to second to make the double play. Who takes the throw if it was not communicated before the pitch, the shortstop or the second baseman? – Trezz
A: Trezz – That's a good question. I always see the pitcher point to the infielder to see who he has taking the throw, and then wondered if in the heat of the games, just looks to see who is there and fires it to him. I have a very solid belief that the shortstop should take the overwhelming majority of the throws. Think about it – the ball is hit to the middle of the field, specifically to the pitcher. At contact both the shortstop and second baseman break in the direction of the ball, again, the middle of the field. That means the shortstop is moving toward the bag at second and has first base in full sight, straight ahead. On the contrary, the second baseman, will have his back towards first base as he reaches second and turns to throw to first. A much easier play for the shortstop, yet I still see our middle infielders giving away the coverage, simply because the hitter is right handed or left handed.
The only exception to this rule would be if there is a dead right-handed pull hitter up and the shortstop is way over in the hole and the second baseman is closer to second. Then, yes of course, switch coverage. The shortstop always has the easier play because he is in full view of everything and will be moving in the proper direction always. Now there are plays where the ball could be tapped just off the side of the mound where the shortstop is not sure the pitcher will make the play and goes straight forward in a possible attempt for a play. It is then the second baseman's responsibility to switch coverage and take the throw at second in case the pitcher makes the play and the shortstop is out of position because he was moving to the ball around the mound.
It is kind of a pet peeve of mine to see the middle infielders switch coverage simply because of right or left handed hitters. I've seen good big league shortstops yell at the pitcher when the pitcher hinted he thought the other guy should take the throw! To me it is case closed. Shortstop always unless pull hitter or a tapper right side of the mound. Thanks for that question because that one always stirs me up! Have a good one, Sam
Q: Sam – My dad and I were at a game this season and we are avid baseball followers, but we still question a lot that goes on in the game. We were watching the Yankees and their second baseman was Stephen Drew, his average was around .160 and when he came up to bat, the defense (Orioles) played a major shift on him. And of course he hits right into the shift. Our question is, why wouldn't major league batters be good enough to hit to the opposite field? Why wouldn't hitting coaches work with the players to be able to hit away from the shift? And even just lay down a bunt or chop a ball the other side of the field? We noticed 2 or 3 players who hit right into a shift and we are blown away that players getting paid millions of dollars can't hit a ground ball to the opposite field. Stephen Drew especially because he is not a home run hitter (nor a hitter at all, not sure why the Yankees couldn't bring a minor leaguer up to bat .160).
Another question we had was what determines whether a pitcher is a starter or a reliever? We noticed a guy (Betances) for the Yankees who throws 99 mph but is a reliever. Why couldn't he go 6 innings like other pitchers?
Lastly, what kind of salaries do the behind the scenes coaches get paid – such as 1st and 3rd base coaches and bullpen coaches? Thank you for
taking the time to read and answer these questions. Austin
A: Austin – That was a long question! Seriously though, a super great question. Believe it or not, having coached or managed at the major league level for 26 years, I actually have to ask the very same question. I am totally with you on everything you said with the shift. I guess it must be ego, ya think????
Here's what is happening in the game today – sabermetrics. All teams are getting deeper and deeper into statistics, defensive positioning, pitch counts, batting averages late in the game, etc. The whole game of numbers is taking over, so if you don't want to get passed by, you better learn how to make your own adjustments. I've been on the other end, and seen the exact thing that you see and it bothers me every bit as you. If you continually hit into the shift, why would anybody pitch you any differently? They won't, that's the problem.
The reality of it is if you want them to straighten up the shift, then hit the ball the other way! This is not brain surgery here. It is nothing more than ego and/or stupidity. Or even the lack of talent. And in that case, you won't be around very long anyway. I agree, bunt the ball, do something. They are trying to take away your livelihood! You can't let them do that. If they think you are corny for doing that, well then it is just too bad. The name of the game, is WIN, and do it whatever way you can. And if you expect to be the best you can be, then its time to make the necessary adjustments.
As far as why some pitchers are starters and others are relievers that's also a good question. Some guys just can't mentally progress through a nine inning ball game. Their concentration level just isn't there. These are the guys who come in for an inning and throw pellets for three outs and get out of the game. Actually, there really is an art to both sides of that equation. And there are several different variables that can all contribute to which you will be, a starter or a reliever. Arm injuries can be a factor. Command of the strike zone over the long haul also. Ability or inability to learn how to get hitters out the third and fourth time around the line up. How good of stuff do I have? These are just a few examples that come into play when you start or relieve. Both are important roles. And sometimes, we have guys we call swing guys. They can fill in as a starter on certain emergencies from time to time and become very valuable to a manager. I guess what I'm really saying is that there are many reasons to be one or the other. It really doesn't matter as long as you can contribute to the ball club. If you watch long enough, you will eventually figure it out. It takes both to win games.
And Austin, coaches' salaries vary just like starters and relievers! I would be talking out of line to be guessing on salaries and it really is a very personal matter. I will say this – coaches should be getting paid more money. They work tirelessly on helping their players. They arrive at the ball park as early as 12 noon for 7pm games! And they get home at around 11:30 pm! That is a long day. They look at film, gather the facts from scouting reports, do extra work on the field and then do the daily work that happens every day before a game. Most people think they just show up an hour before the game and leave as soon as the game is over. It doesn't happen that way and they really do earn their pay. It seems that players' salaries continue to go up, yet coaches stay the same or go down. It's still the big leagues…and there is no better place to be. Hope this takes care of all your questions! Thanks, Sam
Q: Sam – In my game recently my 15u team was playing in a 16u tournament and I was involved in a collision at home. The catcher caught the ball in the left-handed batter's box and had to get in front of the plate but he went elbow first, hitting my helmet clean off, elbowing me in the chest and giving me a high ankle sprain. Why can he not block the bag but is allowed to throw him self at me? – Michael
A: Michael – Sounds as though you had a pretty day at the ball park. The rules of the game today say that the catcher has to stay in fair territory to field the ball, and has to leave a lane open so that the runner can slide. He cannot block the plate without the ball and he must keep both feet in fair territory. It sounds to me like your rules are not the same or either someone missed the call. And as stern as this may sound, catchers sometimes like to take a cheap shot at defenseless runners coming home. Probably because runners have taken enough cheap shots at them also. If the umpire missed the call its shame on him. But the next time you go into home, be ready for the worst and nothing bad will happen after that. I only had to learn one time, the next time he would be on the other end of FAIR play. Never, never did I intentionally try to hurt someone with cleats up. There is always a way to go in clean and hard. Like I said, be ready at all times and no one gets hurts. Hard, clean play had been a part of the game forever. Stand your ground and play the right way. Hope you are feeling better by now. Thanks again, Sam
---
Thanks again for the great questions. I always enjoy talking baseball with people. Send your questions to me via email at AskSam@baseballclinics.com.