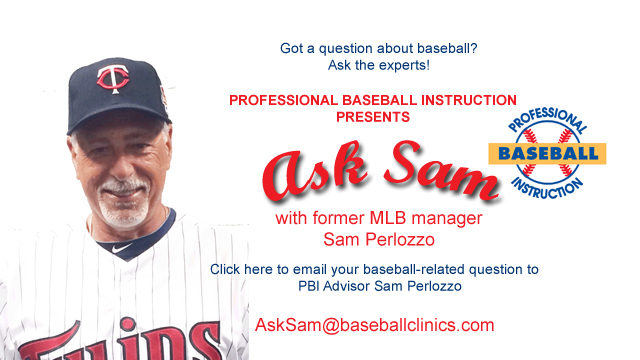 Welcome to the latest "Ask Sam."
I'm Sam Perlozzo and I'm the minor league infield and baserunning coordinator for the Minnesota Twins. A former manager and coach at the major league level, I am also one of Professional Baseball Instruction's Major League Advisors. Each month, I answer your baseball-related questions.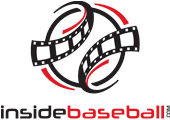 Before we get into this month's questions, I want to remind you about something that I'm involved in and very excited about. Fellow PBI Advisor Leo Mazzone and I have teamed up with former MLB players Roy Halladay, Dave Magadan, Jody Reed, Tom Foley and others on a new website called Inside Baseball. We offer the world's largest online library of baseball training videos with proven advice and training methods designed to help baseball players of all abilities improve their game. I hope you'll take a few moments to check out the website; there's a lot of excellent information there.
Now, let's get to your questions. And remember, if you have something you'd like to ask, email me directly – AskSam@baseballclinics.com.
Q: Sam – If a runner attempts to steal a base – if he's on the base when the pitch is throw and the batter fouls it off does he go back to the original bag or does he stay at the stolen base if he was already there before the pitch was thrown? Thanks, Danny.
A: Interesting question, Danny. It is a little hard for me to picture what you say as really happening. If the pitcher is on the rubber and the runner takes off and the pitcher lets him get to second before he actually starts his motion to home plate, then he would be allowed to stay with a stolen base. But if the pitcher is on the rubber and has actually started his stretch movement, then the actual play starts then. So he could actually round second and if the ball is fouled he would have to come back to first. It really depends on whether the pitcher has started his move to the plate or not. In all reality, I don't think I have ever seen what you have asked. Anyway, the game is a great game, maybe that will happen one day and I could say I have seen it!!! Thanks, Sam.
Q: Sam – I am a huge fan of MLB players who have both power and speed, so that should explain why I am asking this question. In your experience seeing all the MLB athletes you have seen, do you think it is possible for a player to hit 50 home runs and steal 100 bases in the same season? I believe 50/50 might be possible because Brady Anderson and Barry Bonds both hit 50 HRs and stole 50 bases in two different seasons, but is is physically possible for a Rickey Henderson (who once hit 28 HRs) type player to have the speed and ability to steal 100 bases, but also the power in his bat to hit 50 HRs? Is it physically possible for a player to do both or impossible because of some difference in the power and speed physical build? Thanks, Paul.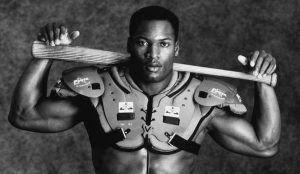 A: Paul – I always think something is possible. In this case I would say possible, but highly improbable. Let me explain what I am thinking. In order to steal 100 bases, you have to get on base a lot. If you hit fifty homers you actually lose those at bats to try to steal. You only get so many at bats and opportunities to steal. Hitting 50/50 we know is possible. I actually had Brady Anderson with the Orioles when he accomplished that feat. But the game has become so specialized with starting pitchers and relievers, slide steps that are too quick to steal on, and others that would really make it hard to do.
One guy who played this game a while ago comes to mind and that is Bo Jackson from the Kansas City Royals. He had that power football body yet great speed of a running back. It would have to be someone like that and even at that, he would probably get pitched around too much to allow him to accomplish that stat. Who knows, stranger things have happened and guys continue to get bigger, stronger, and faster!! It may not be that far away!! Good luck, Sam.
Q: Sam – why all the complaining about teams using defensive shifts? It's not as if it's something new – teams did it against Ted Williams. Shouldn't hitters just work on the old theory of "hit 'em where they ain't?" Thanks, Jason.
A: Jason – I FINALLY found someone that agrees with me!!! Yes, hitters should be able to hit the ball to all fields. And if you want them to quit shifting you then hit the ball the other way until they have to straighten them up. The problem these days is the ego of the MLB player is hard to convince. Plus look at the money you get for hitting homers!! Therefore, nobody wants to do it. Nobody says you cant hit the ball over the fence the opposite way. I coached for the Phillies for four years and thought Ryan Howard would have hit .350 if they didn't shift him. Hard to believe.
I doubt that this will change anytime soon unless the commissioner steps in to change it. If I was struggling, I would punch a few balls the other way for easy hits until I felt good again. And HITS make you feel better as a hitter! So Jason you are preaching to the choir when you say that. I am totally with you and cant predict the future, but it sure would make the game look like it was back to normal again. Thanks, Sam.
---
Thanks again for the great questions. I always enjoy talking baseball with people. Send your questions to me via email at AskSam@baseballclinics.com.