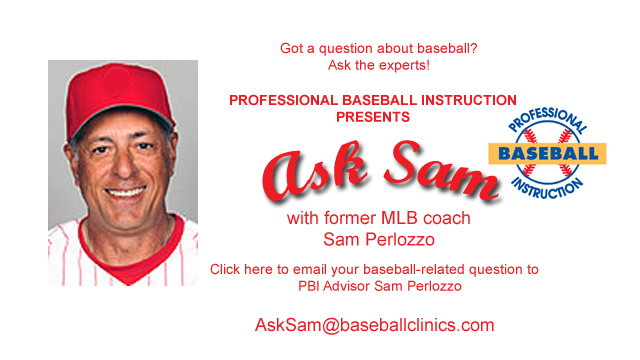 Former major league manager and coach, and PBI advisor Sam Perlozzo periodically answers your baseball-related questions. Email Sam directly –AskSam@baseballclinics.com. Here's the latest from the "Ask Sam" mail bag.
Q: Sam – Coach, I'm a high school coach. When you are scouting another team, either prior to, or during game day, what exactly are you looking at and which charts are your favorite? – from Phil
A: Phil – we usually have an advance scout who gives a report on the team we are playing next a few days ahead of time. They give us numerous data from who's hot to who's not, pitching charts on hitters, base stealers, hit & run plays, defensive positioning, outfielders' & catchers' arms, any trick plays, etc. My favorite thing for me was when I was coaching first base and I was in charge of base stealing. I watched pitcher's deliveries and times to home plate. I would try to pick them apart so that our base stealers could get good jumps to steal bases. The base stealers counted on me and it was a great feeling when they used my info and put it into use during the game. Each area – infield, outfield, pitching & hitting – had certain data that they used to help each area in the course of the game. Quite a bit of info and then you just have to use your eyes and watch the game!!! Great question, thanks! – Sam
Q: Sam – I've been watching this show on MLB Network a lot with Brian Kenny and Harold Reynolds. Brian is a HUGE fan of stats and numbers; Harold comes from the more traditional background of someone who played at the highest professional level. I like to think I'm open to new ideas, but some of these new stats make my head spin. Where do you think the middle ground is between the stats-heads and the more traditional mindset? – Mark in Bloomingdale
A: Mark – Stats are without a doubt an important part of the game. We get pitcher/hitter match ups that are critical late in the game. But I think what you are getting at is the human element of the game and I totally agree with you. Having managed at the Major League level, there is so much stuff out there that you are damned if you do and damned if you don't. I think you use what you can and what's relevant, and then manage the game that is front of you. So what if a guy doesn't have good numbers against a certain guy if he is hot at the time. Too much media coverage makes everything that doesn't work a mistake, which isn't true. Let's face it, hind sight is 20-20…let the guys play, let the managers manage, and let the coaches coach. Numbers are not the sole criteria for the outcome of games. If they were, we wouldn't have a need to play the games!!! – Sam
Q: Sam – my son's skills are developing at a different rate. At 11 his pitching is good, his fielding skills are weak, and his hitting is somewhere in the middle. We want to see him improve but we're not sure what to concentrate on. Advice? – from Bill in Lyndhurst
A: Bill – As a father who had a son growing up, I had the same questions for myself. I found that fielding was the last thing to develop. I think you just have to have patience with that and keep working on all skills each day. He is not old enough to specialize in a certain area so just keep doing what you are doing and I'm sure he will develop at the rate that he should. As he gets older, you can then start to work more at certain areas. It is important that he just get repetitions so that everything gets a chance to improve. I will say this, as he gets to an older age, hitting is the thing that will get him over the hump. Scouts always say that if he can hit, we will teach him the rest. Sounds as if he is developing at a good rate and that you are exposing him to as much as you can . Keep it up and let me know how it goes!! Good luck. – Sam
---
Thanks again for the great questions. I enjoy the interaction with you. Send your questions to me via email at AskSam@baseballclinics.com.