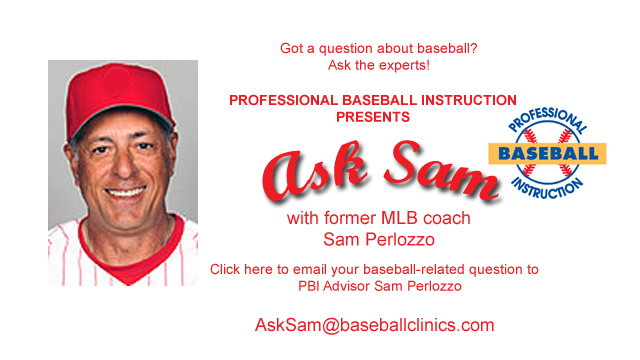 Former major league manager and coach, and PBI advisor Sam Perlozzo periodically answers your baseball-related questions. Email Sam directly – AskSam@baseballclinics.com. Here's the latest from the "Ask Sam" mail bag.
Q: Sam, I run a Baseball Academy during the winter for all ages, but the bulk of my previous experience was high school. Do you have any favorite fielding and hitting drills you've found to be most effective with young players? Thanks, Phil.
A: Phil, thanks for your question about fielding. Just so happens that falls into the category of my favorite drills for infielders of nearly all ages. My biggest belief with infielders is to CATCH the ball first, then THROW it second. I preface everything by saying we must catch all the balls hit that most people call "routine." In my teaching though, I don't allow the word "routine" to be said! As soon as we call the ground ball "routine," the more we relax, and the more easy mistakes we make. Quite frankly, there are no routine plays in baseball, some are just a little more difficult. So I know you are probably asking what do you call them? I call them the ball you get 80% of the time, not the ones way left or right, but simply the balls in the area we get 80% of the time!! Having said that, we now work on catching 100% of the 80%-ers. If you do that the other 20% will take care of themselves.
So, now that we know we want to catch all the balls at you, how do we do that? Let's go back to catch the ball first and throw it second. I believe in no excess motion with the glove promotes good habits and prevents easy mistakes. I like to start with the glove out in front and low. I like it out there early. Pretend there is a giant eyeball in the center of the pocket, and that eyeball tracks the ball on the ground. Glove closed, eyeball can't see. I think you get where I'm going.
Then I pull infielders up on the infield grass, make them start with the glove down, pocket open, and then I hit them a grounder. They are not allowed to do anything but catch the ball. No other movements allowed. Just catch it and hold it there for a few seconds. Then continue to hit more and do the same thing. You will see this keeps the glove quiet, and the infielders will get the idea that we are slowing the game down, thus making it easier to make all the 80%-ers!!! It may take a few times to get the hang of it, but Phil, I promise it will work. And that's from big leaguers to little leaguers. I know this will help. Good Luck.
As far as hitting drills, they are pretty much the same everywhere, but can be tailored to the age and talent level of the player. Tee work is always good for younger kids, soft toss into a net is good, and soft toss out in front, behind a screen is great, too. Repetition is what you are looking for in all the drills. Hitting down on the ball, short swing to the ball, and balance are all keys to a good swing. Remember, repetition in a good swing is what you want. Best of Luck! – Sam
Q: Sam – my son is 9 and is deathly afraid of getting hit with a pitch. Help! Thanks, Ken
A: Ken, fear of the ball is not always an easy task. If your son really likes baseball, then you have a good chance to fix him. What I would do if I worked with him would be to get some soft balls to throw to him so he isn't afraid if he gets hit. Maybe even throw a few at him and after he realizes it didn't hurt, you'll be one step closer to achieving your goal. As I said, you'll need some patience.
The other thing, which isn't what you want to teach but its one way to get to where you want to go, is to back your son off the plate and make him step toward the plate to hit the ball. I mean far enough that he feels comfortable! Hopefully he gets the feeling that the pitcher can't possibly hit him where he is standing, that his fears of being hit is a lot less. If that starts to help, then gradually inch him closer to the plate until he's at a good hitting position. It may take some time to get used to, but try it; I've seen it work. If all else fails, you may have to consider another sport that suits his personality. Strap on your seat belt and go to work!!! – Sam
Q: Sam, with this being Derek Jeter's final season, do you have any memories of him that stand out from your days coaching against him? Thanks, Tony.
A: Tony, I'm not sure if I can actually pin point one thing that Jeter did that sticks in my mind…..other than the unbelievable cut off from right field to home plate in the 2001 play-offs!! That was just mind-blowing. In general, I have always admired him for the way he goes about his business….ON A DAILY BASIS! He runs hard all the time, he is respectful of the game, and has always been polite and gracious to me my whole career. And off the field, he is the same way. He's kept his nose clean, works hard and is truly a role model for our youth today. That says a lot!! He is what we in the baseball business call a true professional. May there be many more. And he did it on the biggest stage in sports….NEW YORK CITY. A no-brainer Hall of Famer!!! – Sam
---
Thanks again for the great questions. I always enjoy the interaction with you. Send your questions to me via email at AskSam@baseballclinics.com.