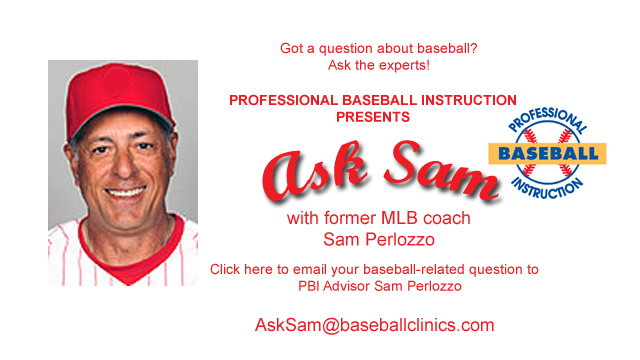 Sam Perlozzo is the current minor league infield and baserunning coordinator for the Minnesota Twins. A former manager and coach at the major league level, Sam is also one of Professional Baseball Instruction's Major League Advisors. Each month, Sam answers your baseball-related questions.
Have something you'd like to ask? Email Sam directly – AskSam@baseballclinics.com. Here's the latest from the "Ask Sam" mail bag.
Q: Sam, what are your thoughts on the use of replay so far this season? It appears that they were making a mess of the transfer rule and actually brought the old interpretation of that rule back. Tom in Nyack NY
A: Tom, in theory, the replay should help to keep the game score accurate. Nobody likes to lose a game on a missed call. So in some respects I think the replay helps to insure the best team that day, win the game. It doesn't always happen that way,but it sure helps.
It's a catch-22 for me really. We seem to take more and more of the human element out of the game. It's almost computerized, almost like you and I could umpire the game because if we got the call wrong, they could just replay it and get it right. So really, how much does an umpire have to practice anymore? I know it sure takes the heat away from them. I mean nobody likes to be ridiculed in the paper and labeled the rest of their life on a missed call. After all, we are all human.
So, I guess what I am really saying is that I agree to some extent, and maybe even more than that, but I suppose our lives are just becoming too rigid and predictable. Numbers, computers, Ipads, etc. have just made it too easy for us and we now have to work for less things and expect more. Hey, I'm old school, what can I say? Give us back some of the game. Let's have fun again!!
Thanks Tom. Sam
Q: Sam, are you as surprised as I am how many teams are right around the .500 mark at at this point of the season? It almost looks like the NFL with all the parity so far. Jack in Suffern NY
A: Actually Jack, I'm not surprised. This game turns around so fast it will make your head spin. I always tell people, at the end of May look at the standings, and at the end of September often, you have to turn the paper upside down to get the same standings!! MLB has always started with teams bunching together. Once the "dog days" of August hit, funny things start to happen. And you might as well forget September because the pressure of the pennant race does crazy things to some of those clubs. And then to top it all off, that Cinderella team always seems to emerge, and all kinds of crazy things start to happen. So I'm not surprised at all, but I'm going to tell you to sit back and enjoy the ride! And Jack, don't forget to buckle your seat belt!! That's what makes baseball "America's Pastime." Enjoy, Sam
Q: Have you had a chance to see much of Mike Trout? If so, what are your impressions? He reminds me a bit of Mickey Mantle very early in his career. Ed in West Caldwell NJ
A: Ed, I have not really had the chance to see Mike Trout in person. I have watched enough of him on TV to know he is one of the brightest young talents in the game. I mean he has all the tools, and all the talent. And to top it off, he seems to have his head on straight. I can see where you can compare him to Mickey Mantle. Hit, run ,throw, and hit for power! The combination of power and speed has always intrigued me. Then to top it off, he goes over fences to pull HR's back in!
The game really needs players like Mike. I have to admit, I get cautious with young superstars anymore. How will they handle the media, and press? Will the pressure get to them and stunt their progress? So, I know to give rave reviews, but I also know this game can come back and bite you rather quickly. Let's hope that doesn't happen to Trout. He is a great player for the game right now. You picked a good one. It'll be fun to watch for the next "Mantle" any day now! Thanks, Sam
---
Thanks again for the great questions. I always enjoy talking baseball with people. Send your questions to me via email at AskSam@baseballclinics.com.