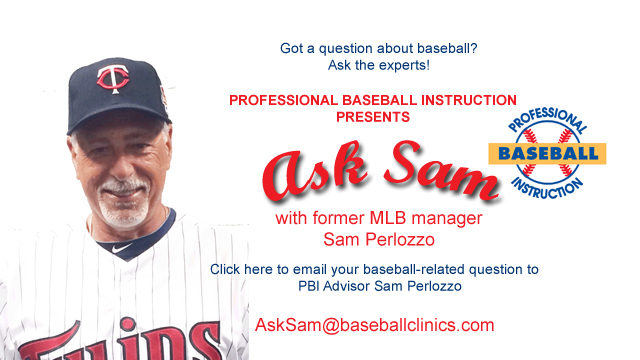 Welcome to the latest "Ask Sam."
I'm Sam Perlozzo and I'm the minor league infield and baserunning coordinator for the Minnesota Twins. A former manager and coach at the major league level, I am also one of Professional Baseball Instruction's Major League Advisors. Each month, I answer your baseball-related questions.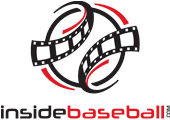 Before we get into this month's questions, I want to remind you about something brand new that I'm involved in and very excited about. Fellow PBI Advisor Leo Mazzone and I have teamed up with former MLB players Roy Halladay, Dave Magadan, Jody Reed, Tom Foley and others on a new website called Inside Baseball. We offer the world's largest online library of baseball training videos with proven advice and training methods designed to help baseball players of all abilities improve their game. I hope you'll take a few moments to check out the website; there's a lot of excellent information there.
Now, let's get to your questions. And remember, if you have something you'd like to ask, email me directly – AskSam@baseballclinics.com.
Q: Sam – Can a player who splits a year playing in the National & American Leagues be eligible to win the MVP and/or Cy Young awards? If so, did it ever happen? – Vito DiMola
A: Vito, I don't think I have ever seen a player win in both leagues. The reason for that is they have a certain limit of AB's, innings, etc. in order to qualify for the award. I doubt they could split a season and get the proper amount of eligibility criteria to count in both leagues. They must make it sufficient enough so the player is a legitimate winner and I don't see how anyone could amass the requirements to fairly achieve the award. – Sam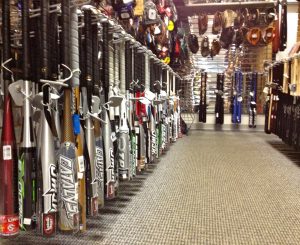 Q: Hey Sam, quick question. I am in a wood bat league, ages 15-17 playing against some top competition. Do you if wooden bats barrels smaller than the BBCOR metal bats barrels? – Riley Duchemin
A: Riley, I am not familiar with metal bats at all, but I can tell you by your using the wooden bat you are going to much better prepared to compete on a good level in pro baseball. Being able to make the adjustment as soon as possible is the best thing you can do. Remember, it's not the size of the bat that makes the hitter, it's how the hitter can handle the bat. Power is generated by how fast you swing the bat through the zone, not by how big the bat is. I hope I semi-answered your question. – Sam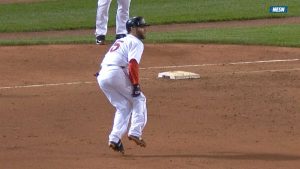 Q: Sam – My question regards all the baseball injuries of MLB players. I have been a fan for 65 years and in the old days of Willie Mays, Hank Aaron, Frank Robinson, Roberto Clemente, Mickey Mantle, Yogi Berra, Duke Snider, Carl Furillo, etc., players used to play the whole year most of the time. Nowadays players are better conditioned and have all kinds of injuries, especially hamstring problems. Why is that? – Leo
A: Leo, you have just asked the million dollar question! You are right, players are bigger and stronger than they used to be. Food additives and supplements play a big part of the game now. The athletic body has changed. The emphasis on strength and size has transformed the athlete today. Pitchers throw harder, hitters hit the ball farther. Their muscles have grown but can the body handle it? In the cases you are talking about, the answer is NO. It is my opinion that athletes pay too much attention to bulk and not enough to the routines of playing the game. By that I mean run more, throw more, stretch more, do the things that you have to do during a game more. Maybe then you can reduce injuries. I know they are in constant studies on why this is happening. The bodies today are wound too tight. Then game time comes around and everything pops.
Leo, don't blame the players. Think about how much money is being given out and why. More power, more speed, more injuries. The longevity of the athlete is what will suffer in the long run if we can't figure out a better way of conditioning and daily routines in preparation for the long haul. Hang in there, it's still a great game with lots of great players who one way or another still find ways to amaze us!! Sam
---
Thanks again for the great questions. I always enjoy talking baseball with people. Send your questions to me via email at AskSam@baseballclinics.com.