The experience of playing baseball in Cooperstown for a 12-year old is unlike just about any other.
The Mahwah 12U team is headed to Cooperstown in 2022 and needs your help to get there.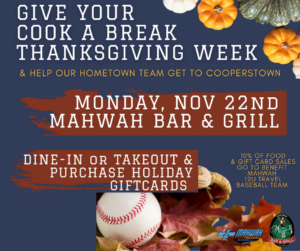 Professional Baseball Instruction invites you to help support the team by heading out to the Mahwah Bar & Grill on Monday November 22 for a special fundraiser.
That night, 10% of all sales of dine-in, takeout, and gift cards will go to benefit the Mahwah 12U baseball team to help defray the cost of their trip next year.
You're going to be busy enough that week getting ready for Thanksgiving so give your family a night out at the Mahwah B&G and help the young Thunderbirds at the same time!
Check out the menu here and bring your appetite. See you on November 22!