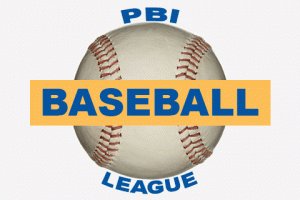 REGISTRATION FOR THE 2019 SPRING SEASON IS NOW OPEN.
The NEW PBI Baseball League – North Jersey's Premiere Travel League!
LEAGUE ADMINISTRATION
LEAGUE & TOURNAMENT COMMISSIONER – Josh Lesser
LEAGUE & TOURNAMENT DIRECTOR – René Miranda
LEAGUE ADVISOR – Brian Casey
LEAGUE ADVISOR – Steve Hayward
FOR A COMPLETE LIST OF SPRING TEAMS CONFIRMED, CLICK HERE
Complete details including dates of play, age cutoffs, etc. is below.

The PBI Baseball League spring season is a Sunday league. Game times are determined by coaches. Games may be played on another day by agreement of both teams, but if you are not able to field a team of at least nine players on Sundays in the spring, this might not be the best choice for your team.
SPRING SEASON SCHEDULES, SCORES & STANDINGS – Standings will be updated as scores are received. Scores will be submitted by the WINNING team via email to scores@baseballclinics.com. Each winning team will have the ability to provide Player of the Week and will be displayed in our social media sites.
DIVISION CHAMPS WILL RECEIVE THE FOLLOWING –
Automatic free bid to a future PBI League season (within one calendar year)
Team picture posted on web site (if provided)
Potential bid to USSSA tournament (not confirmed as of yet)
Prizes for Champions – TBD
Consolation Prizes for younger age groups only – 8U – 10U
2019 PBI Baseball League Rules
AGE LEVELS
8U 40/60
9U 46/60
10U 46/60
11U 50/70
12U 50/70
13U 60/90
14U 60/90
16U 60/90
18U 60/90
SKILL LEVELS
TOWN – any team consisting of players all from a single town or who play in the same in-town recreation league (teams must be co-mingled)
CLUB – any team consisting of players from more than one town or recreation league
Town teams can play UP in club division. Club teams cannot play down in town division.
Each division will be broken down into 8-team divisions within age groups.
Please specify age, skill, and field size when registering.
LEAGUE MEETING & COACHES CLINIC
Mandatory League Meeting – March 17
Mandatory League Clinic requiring one representative from each organization – March 24
REGULAR SEASON
The regular season for ALL age levels (8U through high school) will begin Sunday March 31 and continue through Sunday May 20.
ALL DIVISIONS – will play a guaranteed minimum 8 games (one of those games may be a playoff game). All teams will make the playoffs.
THIS IS A SUNDAY LEAGUE. IF YOU CANNOT COMMIT TO SUNDAYS, THIS IS NOT THE LEAGUE FOR YOUR TEAM.
PLAYOFFS
All teams in all divisions of each age level will qualify for a single-elimination playoff game. Playoffs and championship games will take place in June. Semi-finals will be on a Saturday and championship games will be on a Sunday. Winners also receive champion T-shirts. Teams that win their respective championship will receive a FREE berth in a subsequent season of the PBI Baseball League.
COST
REGISTRATION FEE – $245
REGISTRATION CLOSES MARCH 10. Teams registering after that date will be placed on a waiting list.
LEAGUE REFUND POLICY – the registration price includes a non-refundable $25 per team administrative fee. NO REFUNDS WILL BE GIVEN ONCE THE SEASON HAS STARTED. Refunds prior to the start of the season will be made via check.
PBI cannot hold a space for you; teams are taken on a first-paid, first-served basis.


CONFIRMED TEAMS FOR SPRING 2019
INFORMATION AS OF 1/14/19 5:00 PM
9U DIVISION
10U DIVISION
11U DIVISION
12U DIVISION
13U DIVISION
14U DIVISION
2019 PBI Baseball League Rules