Professional Baseball Instruction's annual Holiday Camps are back for 2017…and with a special offer, too!
CAMP DATES – December 27, 28, 29
There are full-day (9AM – 4PM) and half-day (9AM – 1PM) options for players between the ages of 6 and 13 covering hitting, base running, fielding, throwing, pitching and catching. A fully-catered lunch is included with the full-day camp. Players will be grouped by age and then again by skill level.
COST –
FULL DAY – $79.99 per day members, $99.99 per day non-members
HALF DAY – $59.99 per day members, $69.99 per day non-members
Can't make all three days? We'll gladly pro-rate for you. *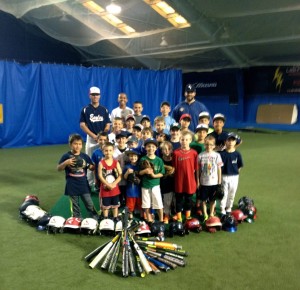 Since it's always better then you have a friend with you at camp, CHECK OUT THIS SPECIAL DEAL – PBI is offering a "Bring a Friend Discount!"
If you bring a friend, BOTH players will receive a special $25 PBI gift card applicable towards any one of Professional Baseball Instruction's elite services, including our unique Winter Indoor League! **
PBI Baseball Camps are a great way to improve your skill set and build friendships that could potentially last a lifetime.
SPACE IS LIMITED!
Register online or call us TOLL-FREE at 800-282-4638.
Click here for our 2017 Holiday Camps flyer.
* Pro-rating not available with "bring a friend" promotion
** Gift card cannot be applied toward glove repair.