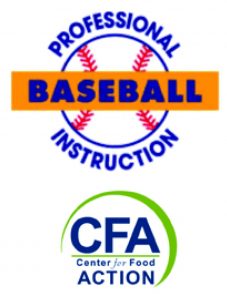 Professional Baseball Instruction, in conjunction with the Center for Food Action of New Jersey, is proud to announce our 1st annual food drive for the 2017 holiday season.
Our goal is to help provide 3000 local families with food during the holidays.
We invite everybody to come in and donate a non-perishable item and receive a SPECIAL DISCOUNT on our upcoming programs and lessons!
While all non-perishable items are graciously accepted, here is a list of the most needed and preferred items from Center for Food Action of New Jersey.
MOST-NEEDED FOOD ITEMS:
Supermarket gift cards
Canned fruit
Canned gravy
Canned soup
Canned vegetables
Coffee, tea, sugar
Pasta
Rice
Drop your items off at PBI's indoor facility located inside NJ Sports House at 12 Wright Way in Oakland NJ.
With your donation receive:
10% off 4-week programs
$10 off lessons
15% off birthday parties
We look forward to seeing you soon!