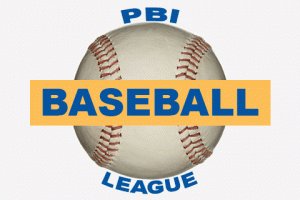 The NEW PBI Baseball League offers spring, summer and fall seasons. Spring and fall seasons consist of 8 games and are played on Sundays. Summer games are played on weekdays; the regular summer season consists of 12-15 games.
All participating teams in each division qualify for a single-elimination postseason. In all cases, game times are determined by coaches. Games may be played on another day by agreement of both teams, but if you are not able to have a team of at least nine players on Sundays in the spring and fall, or weekdays in the summer, the PBI Baseball League is not be the best choice for your team.
PBI Baseball League Rules – The entire PBI Baseball League Rule Set.
SEASONAL INFORMATION
SPRING SEASON – click here.
SUMMER SEASON – click here.
FALL SEASON – click here.
SPRING, SUMMER, FALL AGE LEVELS
8U 40/60
9U 46/60
10U 46/60
11U 50/70
12U 50/70
13U 60/90
14U 60/90
16U
18U
SKILL LEVELS
Town – any team consisting of players all from a single town or who play in the same in-town recreation league (teams must be co-mingled)
Club – any team consisting of players from more than one town or recreation league
Town teams can play UP in club division. Club teams cannot play down in town division
Please specify age, skill, and field size when registering.
REGULAR SEASON
The regular season for all age levels (8U through high school) is 8 games in the spring and fall seasons, and 12-15 games in the summer.
PLAYOFFS
All teams now qualify for post-season play in the PBI Baseball League. PBI provides individual awards for players on the first and second place teams.
COST
GENERAL REGISTRATION FEE – see the individual seasonal pages above for price information.
PBI cannot hold a space for you; teams are taken on a first-paid, first-served basis.
LEAGUE REFUND POLICY – the registration price includes a non-refundable $25 per team administrative fee. No refunds are given once a season has started. Refunds prior to the start of the season will be made via check.
REGISTER ONLINE! – online registration available using our secure server. See individual season links above to register.
LEAGUE ADMINISTRATION
LEAGUE & TOURNAMENT DIRECTOR – René Miranda
LEAGUE ADVISOR – Brian Casey
LEAGUE ADVISOR – Steve Hayward
NEED MORE INFORMATION? EMAIL RENE MIRANDA – rene@baseballclinics.com or call him at 800-282-4638 x101.