Over the past few years, we have seen a major increase in arm injuries, so much so it's been labeled an epidemic! Players as young as 9 are sustaining growth plate injuries. High school age kids (14-19) are at the highest risk for Tommy John surgery. Not all injuries are serious but they can cause a player pain and affect his ability to practice and play games. The more serious injuries are ending too many players' seasons and sometimes even their careers.
The Pitching Healthy Program was created to combat this epidemic.
Colorado Rockies pitcher Justin Valdespina (pictured) is a recent product of the Pitching Healthy Program.
"The Pitching Healthy Program helped me to understand how my body is supposed to work when throwing a baseball. It's a total body movement and not just the arm. The program focused on mechanics and strength training. I went from mid 80's to low 90's in just a few weeks because of mechanical changes and unlocking my potential. Put in the work now so you can succeed later."
In conjunction with the Baseball Health Network (BHN), Professional Baseball Instruction would like to invite ALL pitchers for a FREE workout with our Pitching Healthy Program run by BHN founder Steve Hayward and former New York Mets strength & conditioning coach Keith Cedro.
The key to NOT becoming a statistic is to educate yourself on the following:
How to evaluate your arm on a daily basis and how to best treat it.
How much and what type of throwing you should do
Which shoulder & elbow exercises or stretches will help make your arm feel better
When to take a break from throwing
How to communicate what you are feeling to your coaches so you can work together to give the player what he needs to stay healthy and on the field
Off speed pitches (change-up, breaking pitches) to add to your arsenal
Pitching from the stretch
Holding baserunners
Pick off moves
PFP (pitchers fielding practice)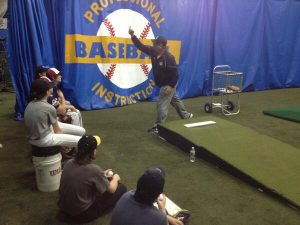 The Pitching Healthy Program includes exercises and drills coordinated with an off-season throwing routine. This program will help players build strength, endurance, and range of motion in their throwing arm while also helping players incorporate their full body into their throwing motion. We don't just want players to learn these exercise routines – we want players to utilize them throughout their baseball journey. They will learn to build arm strength safely and effectively to avoid fatigue and injuries. All of our exercises are not dependent on a weight room or strength training machines and can be done on the field or at home. These exercises include but are not limited to:
Full body warm up
Upper body strengthening and range of motion with Stretch Cordz
Lightweight shoulder exercises
Medicine ball dynamic movement exercises
Core Trunk Stabilization
Football toss- shoulder rotation routine
Leg strengthening
General conditioning/endurance training
Here's an example of one of our arm care exercise routines.
The Pitching Healthy Program is a combination of mental and physical training to help the player grow as an athlete, improve their on field performance, and stay healthy.
We are developing confident, educated, successful pitchers!
If you want to stay healthy and improve your performance, the Pitching Healthy Program will give you the blueprint on how to do it!
We would like to invite you to a FREE workout to see firsthand just how valuable our program is to your success!
There is limited space, so all players must sign up in advance! No walk-ins will be allowed. Workouts are limited to one session per player!
AVAILABLE DATES:
HIGH SCHOOL –
December 2 & 9 –  11:30am-1:30pm
December 6 & 13  – 7pm-9pm
AGES 11-14 –
December 2 & 9  – 10:00am-11:30am
December 6 & 13 – 5:30pm-7:00pm
TO REGISTER – call us at 800-282-4638